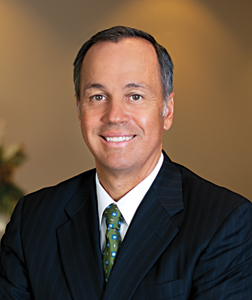 Mr. Jones is Executive Vice President of Carpenter & Company and a Managing Member of the General Partner for the Carpenter Community BancFund.
Mr. Jones joined Carpenter & Company in 1992. Mr. Jones, along with Mr. Gould, has direct oversight of the Fund's portfolio management function. In that capacity, he manages the Firm's staff of portfolio analysts and banking specialists and their work supervising and supporting the BancFund's portfolio banks.
In his role managing the day-to-day activities of the Firm's consulting practice, Mr. Jones functioned as the senior liaison to bankers, regulators, and other professionals in the process of creating new banks and other regulatory matters. He has overseen the opening of over 60 new banks since 1997 and has been involved in 25 capital placement assignments.
From 1992 to 1996, Mr. Jones served as Executive Vice President with oversight for Carpenter & Company's real estate asset management operations. In that capacity, he completed the collection and restructuring of over $3 billion in non-performing loans and real estate as a third party manager for the RTC and the FDIC and as a joint venture partner with the FDIC. These contracts necessitated the management of multiple offices located in California, Arizona, Texas and Colorado.
Mr. Jones is the Vice-Chairman of the Board of Bank of Manhattan, and chairs its ALCO and Corporate Governance/Human Resources Committees. Mr. Jones is also a director of Plaza Bank, where he serves on the Credit Policy Committee, Audit Committee, Asset-Liability Management & IT Committee, Community Reinvestment Act and Compliance Committee and the Human Resources & Compensation Committee.
Mr. Jones is a graduate of the University of Southern California's School of Business Administration. He is a licensed California Real Estate Broker and holds General Securities Principal and Representative licenses.